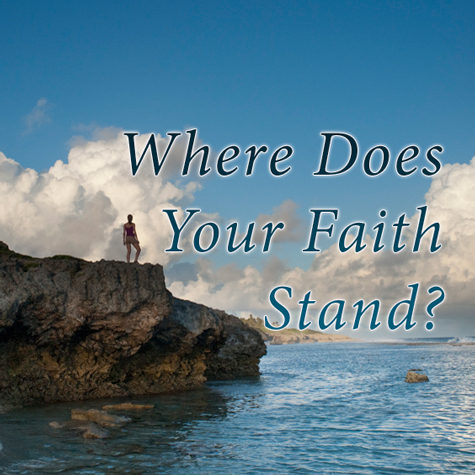 Week of January 15-19, 2018
MONDAY
And my speech and my preaching was not with enticing words of man's wisdom, but in demonstration of the Spirit and of power:
1 Corinthians 2:4
The Apostle Paul is making a statement here that is profitable for all of us. As twenty-first century believers, we look back on this man's writings and stand in awe of what he was able to accomplish. He wrote over half of the New Testament, many times while in very difficult circumstances. Yet this man, whom we often give credit for the writings of the Holy Ghost, disclaims any credit for his preaching. In this passage he denies being a great man and renounces all human power in his preaching. He renounces his own wisdom. He says he spoke the wisdom of God so that the power of God would be demonstrated. God's wisdom, God's power; man's wisdom, man's power. Which would you choose? The choice is obvious. We want God's power in our lives. You do not want to be enticed by man's wisdom into believing what others believe. You want to see the power of God manifested. How does this happen?
====================

Rx
If you are in need of healing, there is good news!
Proverbs 4:20-22 says:
My son, attend to my words; incline thine ear unto my sayings.
Let them not depart from thine eyes; keep them in the midst of thine heart.
For they are life unto those that find them, and health to all their flesh.
So there is life and health in God's word. Since God's word is medicine, we must take it like we would a prescription. I suggest three times a day, like you would your food. Remember, healing is the children's bread. Consider this your "dose" for today.
Remember, read, and meditate three times a day the following:

Rx: Daniel 3:27 ~ Upon whose bodies the fire (of sickness) had no power.
---

"Study to show thyself approved unto God, a workman that needeth not to be ashamed, rightly dividing the word of truth." 2 Tim. 2:15

If you've never studied the Bible from Genesis to Revelation, we invite you to join us as we read through the Bible in a year. Read and meditate on these chapters today:


**January 15 --- Genesis 16, Matthew 15, Nehemiah 5, Acts 15
**January 16 --- Genesis 17, Matthew 16, Nehemiah 6, Acts 16
**January 17 --- Genesis 18, Matthew 17, Nehemiah 7, Acts 17
**January 18 --- Genesis 19, Matthew 18, Nehemiah 8, Acts 18
**January 19 --- Genesis 20, Matthew 19, Nehemiah 9, Acts 19
**January 20 --- Genesis 21, Matthew 20, Nehemiah 10, Acts 20
**January 21 --- Genesis 22, Matthew 21, Nehemiah 11, Acts 21
---
TUESDAY
And my speech and my preaching was not with enticing words of man's wisdom, but in demonstration of the Spirit and of power:
1 Corinthians 2:4
At the end of the gospel of Mark, Jesus gives final instructions to the church. Of course, man's wisdom would argue with me here and say the church was not born until the book of Acts. The church was not empowered until then, but those called out ones were given instructions for what to do after they were empowered. The instructions are very important. The instructions have words of faith that will cause the believers to receive the empowerment from on high. When Jesus told them to go into all the world and preach the gospel, He said something marvelous. He told them that He would work with them and confirm the word that they preached with signs following (Mark 16:20). How was this possible? Was there something different about God's word than man's? Of course there is! God's word abides forever. Whenever we declare God's word (that is what preaching is) we take a stand that says, "His will be done," and He does His will. This was a great mystery that the Apostle Paul had revealed to him. We no longer have to figure things out, but just declare God's word, and He will bring it to pass. What could be simpler?
---
WEDNESDAY
And my speech and my preaching was not with enticing words of man's wisdom, but in demonstration of the Spirit and of power:
1 Corinthians 2:4
Maybe it is not so simple to make the switch. The switch I am speaking of is the switch from having faith in the wisdom of men to faith in God. The wisdom of men says you are in denial if you declare that you are healed while you are sick. Yet the word of God says that you were healed by Jesus' stripes (1 Peter 2:24). Isaiah even declares the same thing before Calvary. If we see God's word as eternal and not spoken in a specific time, then we will understand why the word can be confirmed through the speaking of it. If I have a treasure chest that is buried in my backyard, I know that there is money there whenever I need it. I decide to live out of my weekly paycheck, but the treasure is still there. In order for me to draw from it in times of money shortage or emergency, I only need to go out, dig it up and remove the needed contents. This is the way the faith of God works. Faith digs up the treasure from the wealth of God. When we declare the word, it is like drawing from a stored treasure chest. The chest contains the power of God. Proclaiming God's word as it is written with the force of His faith behind it releases the power of God. It is up to God to confirm His word.
---
THURSDAY
That your faith should not stand in the wisdom of men, but in the power of God.
1 Corinthians 2:5
It is written that we are healed. You go to the doctor and they diagnose you with heart disease and prescribe medication to alleviate symptoms. What are symptoms? They are possible indicators of disease. If enough of them are grouped together and follow a set path, a disease is diagnosed. But you are given medication and all the symptoms leave. Do you still have the disease? The doctors and everyone else will say "yes" even though you are quite comfortable and symptom free. But if the symptoms are gone, why do I still have the disease? It is merely a reminder to you that you must take the medicine or the symptoms will come back as before. The disease is a name that reminds you to take the medicine if you want to feel better. Suppose you have symptoms that cannot be grouped to form a disease? Are you any more comfortable because your symptoms do not have a name? Of course not. You want relief. So you may not be given any medication by the doctor because he doesn't know what to treat. They observe you to see if more symptoms will manifest to form a disease. This is the wisdom of men.
---
FRIDAY
That your faith should not stand in the wisdom of men, but in the power of God.
1 Corinthians 2:5
The power of God works differently. The power of God speaks from eternity. It includes the remedy for your past, present and future. When you begin to have symptoms, you may declare that by Jesus' stripes you were healed. You may resist the disease with God's word, which is our weapon of warfare. If the symptoms become more intense, you may choose to visit the doctor, but you are still healed by Jesus' stripes. They may find enough symptoms to diagnose a disease, but you are still healed by Jesus' stripes. You may take the medicine, but you are still healed by Jesus' stripes. The power of God (His word) declares that you were healed. Why am I sick? Because you accept the diagnosis. Once healing is declared, the diagnosis may be rejected, and your body begins to receive the medicine of the word. Daily meditating upon and declaring it causes the treasure chest of God's power to open up to you. Your faith begins to stand in the power of God and not the wisdom of men. The enticing words of man's wisdom have little effect in causing you to be healed, except that they remind you that you need a natural cure. But God's word is medicine in itself (Proverbs 4:20-22). Man's wisdom will only convince you of your need for medicine, which may help until the wisdom of God fully takes over. You may decide to take the medicine and take the word, but where does your faith stand? Declaring God's word in the face of symptoms of disease will cause His power to be manifested to heal your body. At some point you will be fully persuaded that what God has promised He is able also to perform. Let your faith stand in the power of God.
---