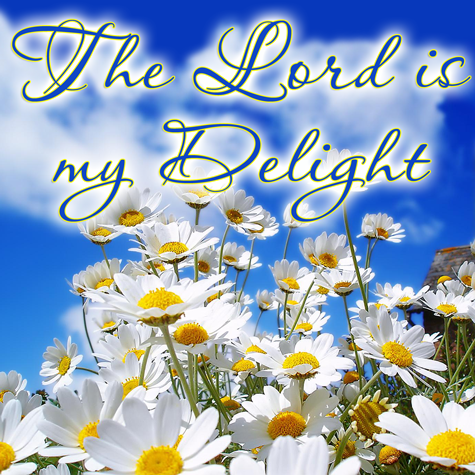 Week of November 20-24, 2017
DELIGHT - Great pleasure or gratification; joy. Something that affords great pleasure or enjoyment. To please greatly. A preference, wish or choice.
MONDAY
He brought me forth also into a large place; he delivered me, because he delighted in me.
Psalm 18:19
I bring God great joy. He delights in me. Why? Because I delight in Him. Whatever we give to God, He multiplies and gives back to us. Our giving is only a token, a symbol of how we really feel towards Him, but God delivers the goods. The psalmist here has noticed something. There are many who confess their love for God and are good church members, but do we all delight ourselves in the Lord? When the Lord is our delight, there is a certain kind of fruit that is produced by this interaction. The fruit in this case is deliverance from each and every trial that we face. Many are the afflictions of the righteous, but the Lord delivers him out of them all (Psalm 34:19). Righteousness brings its own reward. When we are in right standing with God, then we delight in Him. He shows His delight in us by bringing us a mighty deliverance. How do we delight in the Lord?
====================

Rx
If you are in need of healing, there is good news!
Proverbs 4:20-22 says:
My son, attend to my words; incline thine ear unto my sayings.
Let them not depart from thine eyes; keep them in the midst of thine heart.
For they are life unto those that find them, and health to all their flesh.
So there is life and health in God's word. Since God's word is medicine, we must take it like we would a prescription. I suggest three times a day, like you would your food. Remember, healing is the children's bread. Consider this your "dose" for today.
Remember, read, and meditate three times a day the following:

Rx: James 5:14-15 ~ Is any sick among you? Let him call for the elders of the church; and let them pray over him, anointing him with oil in the name of the Lord: And the prayer of faith shall save the sick, and the Lord shall raise him up; and if he has committed sins, they shall be forgiven him.
---

"Study to show thyself approved unto God, a workman that needeth not to be ashamed, rightly dividing the word of truth." 2 Tim. 2:15

If you've never studied the Bible from Genesis to Revelation, we invite you to join us as we read through the Bible in a year. Read and meditate on these chapters today:


**November 20 --- I Chronicles 15, James 2, Amos 9, Luke 4
**November 21 --- I Chronicles 16, James 3, Obidiah, Luke 5
**November 22 --- I Chronicles 17, James 4, Jonah 1, Luke 6
**November 23 --- I Chronicles 18, James 5, Jonah 2, Luke 7
**November 24 --- I Chronicles 19-20, 1 Peter 1, Jonah 3, Luke 8
**November 25 --- I Chronicles 21, 1 Peter 2, Jonah 4, Luke 9
**November 26 --- I Chronicles 22, 1 Peter 3, Micah 1, Luke 10
---
TUESDAY
Blessed is the man that walketh not in the counsel of the ungodly, nor standeth in the way of sinners, nor sitteth in the seat of the scornful. But his delight is in the law of the Lord; and in his law doth he meditate day and night.
Psalm 1:1-2
We delight God by avoiding certain things and doing others. When we choose good company, or the company that God approves, we stand in His righteousness. God wants us to keep the same company He does. When we choose the company of the saints over sinners, the wise over the foolish, the God fearing over the forward, and the meek over the proud, then we have delight in the Lord. We then have to further choose to embrace certain other things. We must then embrace the knowledge of God at every turn. We must delight in the laws of God. We must meditate upon them day and night, and observe and do them. God's word and doing His word must become our delight. When the laws and ways of God become our delight, then we are like trees planted by rivers of living water. We have a continual source and supply of all things good for our spiritual growth and nourishment. Because we delight in Him, He delights in us and shows His delight by prospering us in everything that we do.
---
WEDNESDAY
Delight thyself also in the Lord; and he shall give thee the desires of thine heart.
Psalm 37:4
When we delight ourselves in the Lord, He trusts us. Imagine having the type of relationship with God that allows us to have His permission to have anything our hearts desire. What trust He has in us when He is our delight, and how easy it is to delight ourselves in the Lord! Giving God our full attention, so that His word is ever present in our hearts and in our minds, is a delight to Him. These things are not mysterious. They may be new to us and may take some getting used to, but we can master the task of delighting ourselves in the Lord. Jesus said if you abide in me and my words abide in you, you may ask what you will, and the Father will do it for you (John 15:7). This is also a delight to the Lord. You delight so much in His law that you have hidden it in your heart and you execute the word of God. You are so like His son at this time that your joint inheritance privileges begin to manifest (Romans 8:17). What an awesome thing to have the Lord as your delight.
---
THURSDAY
Receive, I pray thee, the law from his mouth, and lay up his words in thine heart. If thou return to the Almighty, thou shalt be built up, thou shalt put away iniquity far from thy tabernacles. Then shalt thou lay up gold as dust, and the gold of Ophir as the stones of the brooks. Yea, the Almighty shall be thy defence, and thou shalt have plenty of silver. For then shalt thou have thy delight in the Almighty, and shalt lift up thy face unto God. Thou shalt make thy prayer unto him, and he shall hear thee.
Job 22:22-27a
When you sit down to read and study the word of God, are you a procrastinator, hoping to put it off for another few minutes, so that you will not have to read? This is a problem for most of us at one time or another. God knows that our flesh will fight us for His attention, so He forgives our weakness and gives us His strength for the task. God wants very much to help us and to heal us. He brings healing to those in whom He delights. In Job's case, Job was so consumed with his present condition, that he ceased to delight himself in the Lord. Sudden calamity would be a tremendous test for us all. We can put off our normal routine of meditating on God's word and delighting in Him. But we can repent and turn back to Him and again stand in righteousness and obtain all the privileges that His covenant of peace gives. The scripture says if we will receive the law from His mouth and lay up His words in our hearts and return to Him, we shall be built up (healed), prosper and will have our delight in Him again. Making God our delight allows us to be healed (Exodus 15:26).
---
FRIDAY
If thou turn away thy foot from the sabbath, from doing thy pleasure on my holy day; and call the sabbath a delight, the holy of the Lord, honourable; and shalt honour him, not doing thine own ways, nor finding thine own pleasure, nor speaking thine own words: Then shalt thou delight thyself in the Lord; and I will cause thee to ride upon the high places of the earth, and feed thee with the heritage of Jacob thy father: for the mouth of the Lord hath spoken it.
Isaiah 58:13-14
The prophet is giving instructions to a nation who had forgotten God. One of the primary ways God had employed to keep man mindful of his need for constant contact with God was the system of holy days. God chose the Sabbath as a day when man would rest from his normal activities and spend time with God. We have a continual Sabbath when we delight ourselves in the Lord. We have a Sabbath and a tabernacle on the inside of us, because when you are born again, God dwells in you. You can come away with the Lord at any time. You can receive His word and delight yourself in Him at any time. You can live in a state of constant delight in the Lord. When the Lord is your delight, you delight Him, and He will cause you to be victorious over all the things that bother you. You will inherit and subdue the earth, riding upon its high places. You will inherit the wealth of the earth because He trusts you. Oh that we would allow the Lord to be our delight. We will ride above the high places of the earth!
---