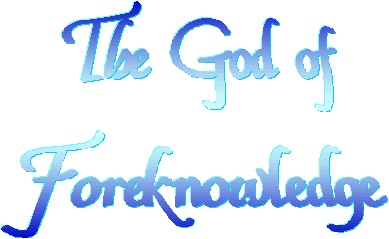 Week of September 25-29, 2017
FOREKNOWLEDGE : to have previous knowledge of; know before hand
MONDAY
Thou knowest my downsitting and mine uprising, thou understandest my thought afar off.
Psalm 139:2
God searches and knows everyone. He knows our thoughts long before we do, because He is the God of foreknowledge. This ability only belongs to our God. Foreknowing is not always the same thing as foretelling. What God knows He does not always tell. Satan is not this way. The scant amount that he does know he cannot wait to tell. Thus, our God deals with discretion. He only reveals that which is beneficial to us to have revealed. God knows everything about everybody…this is how He becomes our personal God. He has intimate knowledge of us, and foreknowledge is a part of this intimacy.
====================

Rx
If you are in need of healing, there is good news!
Proverbs 4:20-22 says:
My son, attend to my words; incline thine ear unto my sayings.
Let them not depart from thine eyes; keep them in the midst of thine heart.
For they are life unto those that find them, and health to all their flesh.
So there is life and health in God's word. Since God's word is medicine, we must take it like we would a prescription. I suggest three times a day, like you would your food. Remember, healing is the children's bread. Consider this your "dose" for today.
Remember, read, and meditate three times a day the following:

Rx: John 5:6-9 ~ When Jesus saw him lie, and knew that he had been now a long time in that case, he saith unto him, Wilt thou be made whole? The impotent man answered him, Sir, I have no man, when the water is troubled, to put me into the pool: but while I am coming, another steppeth down before me. Jesus saith unto him, Rise, take up thy bed, and walk. And immediately the man was made whole, and took up his bed, and walked: and on the same day was the sabbath.
---

"Study to show thyself approved unto God, a workman that needeth not to be ashamed, rightly dividing the word of truth." 2 Tim. 2:15

If you've never studied the Bible from Genesis to Revelation, we invite you to join us as we read through the Bible in a year. Read and meditate on these chapters today:


**September 25 --- 2 Samuel 21, Galatians1, Ezekiel 28, Psalms 77
**September 26 --- 2 Samuel 22, Galatians 2, Ezekiel 29, Psalms 78:1-37
**September 27 --- 2 Samuel 23, Galatians 3, Ezekiel 30, Psalms 78:38-72
**September 28 --- 2 Samuel 24, Galatians 4, Ezekiel 31, Psalms 79
**September 29 --- I Kings 1, Galatians 5, Ezekiel 32, Psalms 80
**September 30 --- I Kings 2, Galatians 6, Ezekiel 33, Psalms 81-82
**October 1 --- I Kings 3, Ephesians 1, Ezekiel 34, Psalms 83-84
---
TUESDAY
Elect according to the foreknowledge of God the Father, through sanctification of the Spirit, unto obedience and sprinkling of the blood of Jesus Christ: Grace unto you, and peace, be multiplied.
1 Peter 1:2
We are the elect of God. We are elect according to the foreknowledge of God. He always knew who would accept Him, yet He even gives those who reject Him a chance to choose. How is God able to do this? Is He merely playing games with us? How is He able to give a fair chance at salvation even to those who will reject Him? He does it by faith. Faith is the substance of things hoped for. God's will is that we will all choose to live for Him, become born again and take up our true calling and divine ability. When He moves by faith, that faith only sees the hoped for outcome, not the foreknowledge. Faith limits itself to the will of God, irrespective of the known outcome.
---
WEDNESDAY
For whom he did foreknow, he also did predestinate to be conformed to the image of his Son, that he might be the firstborn among many brethren.
Romans 8:29
He predestined us to become sons and daughters of God. He also predestined all the works we would do for Him. God knows what our true calling is, and He knows if we will accept the full call. He knows the detours we will take; He knows the compromises. Yet, He is fully willing to help us when we repent and yield to Him, because His foreknowledge is not the same thing as His will. He knows who will live eternally with Him, yet He does not deal with us as rejects. He treats us as royalty from day one.
---
THURSDAY
And the scripture, foreseeing that God would justify the heathen through faith, preached before the gospel unto Abraham, saying, In thee shall all nations be blessed.
Galatians 3:8
This scripture is a book of foreknowledge; it attests to the fact that God foreknew that He would justify us by faith. When we first come to God, we are like the prodigal son…the Father throws a party, the angels rejoice, He puts the royal ring on our finger. That's royalty. Many of us have walked in this royalty only to reject the Father and again begin to taste of the world, wear the garments of Babylon. God knew all of this, and still gave us His best while we were obedient. The God- kind of faith enables Him to do that because it works with the God-kind of love.
---
FRIDAY
Who verily was foreordained before the foundation of the world, but was manifest in these last times for you,
1 Peter 1:20
Even Christ was foreordained before the foundation of the world to die for our sins. Imagine the Father's heart. His main purpose for His only begotten Son was to die for the sins of the world. God's foreknowledge understood that He would choose a people to whom He would give His law, and be their God, but they would reject Him continually, even finally rejecting His Son when He came in the flesh. He also knew that He would raise His Son up to be the King of all Kings with all power in His hands, and that those who once rejected Him would be given another chance to receive the resurrected Lord of glory. His foreknowledge keeps all this in a discreet little package that we refer to as salvation. Knowing this makes me want to share Christ with everybody. Why don't you join me?
---