In this section we will attempt to answer questions that seem to puzzle people... both in the world and in the church.
We will search the scriptures for answers to some insight into God' s mind in these areas.
---
QUESTION:
Did God send hurricane Katrina and the tsunami to punish the people?
ANSWER:
According to Jesus, we can expect earthquakes in diverse places (Mark 13:8). He did not say what would cause them, but we can see in other places in the bible where natural disasters have occurred.
The plagues of Egypt appeared to be related to the Egyptian's disobedience to the God of Israel. Though they were not servants of God, they had shown favor to Israel because of Joseph's service to Pharaoh. When they enslaved and began to treat the Hebrew unjustly and murder their firstborn, God sent the plagues.
In another instance, God destroyed the immoral cities of Sodom and Gomorrah, but only after informing His servant Abram and allowing him to ask for the lives of the righteous who lived there.
More recently, an airliner crash landed in the Hudson River. According to a survivor, those on board prayed. All survived. Many people credit the pilot and superior training, but what if all had perished, as often happens. It appears that man's behavior is related to misfortune, but man's cries to God for mercy are heard as well.
---
QUESTION:
"My friend thinks the Bible is helpful to us today. I disagree. Since it was written so long ago, I don't believe it is..."
ANSWER:
The Bible contains nothing but the truth, and truth is timeless. The bible is rare in that it is the only written work that validates itself. "All scripture is given by inspiration of God, and is profitable for doctrine, for reproof, for correction, for instruction in righteousness..." (2 Timothy 3:16). This means that the Bible contains valuable information. There is no time limit on that which is valuable; as a matter of fact, value often increases with age.
If the Bible were written by mere men alone, the fact that it's words bring so much comfort and help to humanity world wide would make it of value. Books written centuries ago still are enjoyed by people today, so mere books never lose their value.
But is the Bible merely an old book, or is it more than that? According to 2 Peter 1:20-21 holy men of God wrote the Bible as they were moved by the Holy Spirit. This means that God Himself inspired men who were called to serve Him, and told them to write His thoughts. The word of God is timeless, because the author is eternal and lives today, and because He is alive, He can speak to us from the pages of His word, and tell us how to apply His word to our lives today.
---
QUESTION:
"Should the Bible be taken literally? For instance, there are scriptures forbidding eating certain foods, like shellfish. Is the Bible wrong?"
ANSWER:
It depends on who you ask. If you ask the author, you'll find out why the practices were forbidden to God's people.

The Bible, unlike any other book is "living word". This means the Living author gives the only true interpretation, so we must seek God through prayer and relationship with Him for these answers. Since God lives eternally, He has always been available to give the interpretation of His word.

If I were to read Hamlet, I am forced to make my own interpretation because William Shakespeare, being dead, isn't able to answer my questions. With the Bible it is totally different. God is ever alive and present and even invites us to ask Him for wisdom, (James 1:5), which always gives the correct interpretation.

As to abstaining from shellfish, this appears to fall under the category of Old Testament laws and practices designed to keep God's people separated from other nations. In every area of the Hebrew's life there was inserted some practice to remind Him that He belonged to the Living God. In the New Covenant (modern since 2000 years) Christians have the indwelling Holy Spirit to remind us, so dietary restrictions are removed. (1 Corinthians 8).

Holiness, then, becomes an act of the conscience that has been purged of dead works in the new birth. Immorality is forbidden and a higher moral order is established as the believer in Jesus Christ begins to love God and please Him by obeying the Word of God administered by the indwelling Holy Spirit. If we are born again and led by His Spirit, we will live holy lives.
---
>>>>>>>>>>>>>>>>>>>>>>>>>>
FEATURED BOOK BY REV. BARBARA WILLIAMS
SEVEN WEEKS WITH JESUS - V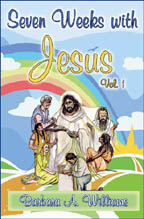 ol. 1

This book is another in a series of daily devotionals designed to help you to meditate on the Word of God. When God, our Father gave His Son, Jesus, He gave His very best. "For God so loved the world that He gave His only begotten Son, that whoever believes in Him should not perish but have everlasting life." John 3:16 ~~ Jesus came to be our Savior, our Friend, our Healer, our Lord, and our Miracle-Working God. This daily devotional is designed to help you to come to know Jesus in a greater way and walk with Him on a daily basis. The readings are simple, thought provoking while being brief and to the point. This format is one that fits easily into our modern lifestyles. This book is a must read for anyone desiring a closer relationship with Jesus.

Order your copy TODAY by calling us at 1-800-560-9240 or CLICK HERE.
<<<<<<<<<<<<<<<<<<<<<<<<<