These manuals are intended as working tools for intercessors. Whether you call yourself an intercessor or not, if you are willing to pray, that qualifies you as an intercessor.  The manuals are easy to use if the guidelines are followed. I trust that you will have success using these manuals to obtain all the Lord has purchased for you and to help others.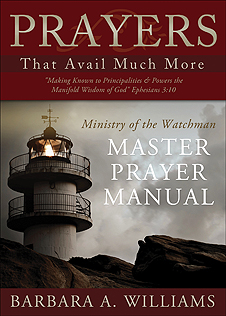 PRAYERS THAT AVAIL MUCH MORE:
Making known to Principalities and Powers the Manifold Wisdom of God.... Eph. 3:1

Ministry of the Watchman
Master Prayer Manual
PRAYERS THAT AVAIL MUCH MORE by Barbara A. Williams is an effective, Christian Prayer Manual that has been used by intercessors for over 25 years. People who have used this manual have seen numerous miracles including physical and emotional healing, financial breakthrough, family reconciliation, and much more. If you have a desire to pray and receive answers, this book is for you!
Item B-16 Price $16.99